We value simplicity and fun
We strive for providing a simple and fun experience to creating great products that unlock the full potential of decentralization.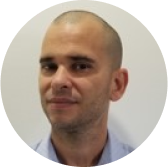 Helder Sepulveda
VP of Engineering
Helder builds and leads our technical infrastructure, devops and software development team management. He has held senior engineering positions in software reliability and devops, is a polyglot who codes in 8 languages, and is the founder and core maintainer of an open source project with over 100,000 downloads.